Hey~! How is your week going?
Mine is good so far, I was at Edniz's house today because it was her birthday, we had so much fun!
Anywaaay~ This blog post will be about UNIQSO's Dolly Eye Jewel Green lenses so let me get started!
First of all, the stock photo!
Dolly Eye Jewel Green
Don't forget to use the code "
anzujaamu
" to receive a
%10
discount!
Also, it is important to wear genuine lenses, please be careful and don't hurt your eyes with defected or fake circle lenses. You can see how to verify your circle lenses
here
.
The design looks really beautiful and vibrant actually!
The reason I went with these lenses is Saber from Fate Zero. I will be cosplaying as her soon, so I plan on using these lenses~.
The lenses are 15 mm. As long as they are 14.8 mm and higher, I consider them big enough!
Their life span is 12 months, just like most of the circle lenses.
The parcel was sent out with Fedex, and it contained a few lenses as well as this one. They came in unharmed and this time I haven't had any problems with FedEx! It came in around 4-5 days! It's really fast, and I'm pleased with this shipping option.
Look how cute the packaging is! I love the little boxes they send with the lenses, heehee.
They also send a lens case for each lenses you buy, so you don't need to worry about searching for one.
After soaking them in the solution for 8 hours, I tried them on! They were really comfortable, I only used eyedrops after I put them in, and I was ready for the day.
Sorry for the messy makeup, I'll try not to mess it up in the next review. ;_;
Anyway! I think these are one of the best lenses I've ever owned! They blend well with my blue eyes, and give a bigger effect because of the black rim(also I like how the rim looks blurry!), perfect for cosplay purpose. I will be posting my Saber photos with these lenses in future, so stay tuned, cuties~!
I also got a orange wig in the mail today! Finally I can reach my final form and become an apricot magical girl, heh heh.
What do you think? Once I style it better, it will look great, huh!?
I'm so excited!
This is the first time I'm posting Anzu's face on my blog by the way. I will post the full photo soon here too, but if you don't want to wait you can go and see it on my
Facebook page
.
Both the character and clothing were designed by me, and the illustrated by
Edniz
.
I hope to wear my very first design soon.
My dream of becoming a magical girl is coming true!
Right, Kyubey?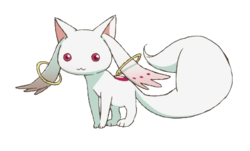 Huh, why are you freaking out? Kyubey would never hurt anyone, you know.
So! This review ends here unfortunately, but I will see you in my next post.
Take care until then, I loooove you!