Hi there~!
How are you doing?
I'm so tired with homeworks to be honest.
It's only Tuesday but I'm already looking forward to the weekend.
Anyway! Today I will be reviewing a Lolita blouse and a headdress from LolitaDressesShop!
Shop LolitaDressesShop
As long as you be careful with the stock photos, you might be able to get some real cute items from these kind of shops.
I recommend checking out the "Lolita Brands" section for high quality items. That's where I found the blouse and the headdress which I will be reviewing in this post.
The site also contains some Milanoo looking items, so please be careful.
As for the shipping, the parcel took about 20-25 days to arrive to Turkey. I consider it as an average shipping time but the condition of the items were an A+. They were packed in their own bags and were separated. But ofcourse, they were in the same parcel so I received them both at once.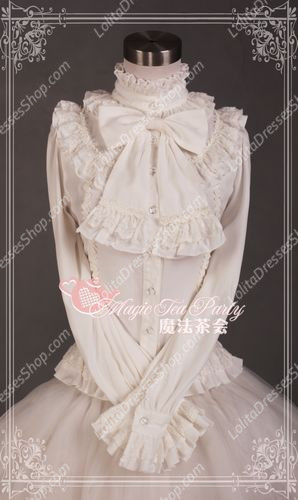 Magic Tea Party Blouse
I'm not sure if you know it but Magic Tea Party is an indie Lolita brand from Taobao. So far I've seen people saying nice things about them. That's why I chose this product!
It also comes in a brown and a pink color. I had a hard time deciding between white and pink, but I really needed a white lolita blouse, so...
The product has the sizes S, M, L and XL. If you check the size chart carefully, you shouldn't have any problem with the sizing. For me, the blouse fit me perfectly.
I'm also in love with the lace details. I found them very cute and somehow they match with all my items, haha.
The ribbon is detachable and I found it very clever. Since it already has a lot of details, I prefer the blouse without the ribbon.
The waist size can also be adjusted from the back, as you can see.
And this was a very quick coordinate. Since we still haven't finished moving,
I couldn't find all my clothes, sorry!
Infanta Lolita Headdress
I really really like some of Infanta's designs! I own their Creamy Cat Salopette but still haven't worn it, haha. This dress is also one of my dream dresses from them and I swear to god, one day it will be in my closet.
For now, I will calm myself down with this adorable mathcing headdress.
The only difference is, unlike the stock photo, the bow stands on the side of my head, not on the center. I am okay with it though, I prefer it on the side.
It is really well-made and made of a thick material so I can say that it is high-quality.
When you put it on, you might need to make it stay in place at first, so it won't leave a gap.
Hnnnn, I've always loved big accessoires like this one!
How about you? Do you like big headdresses like me? Or do you prefer to tone down the dramatic effect?
Let me know in the comments below!
Bye bye for now!