Good afternooooon~!
How are you doing today? I hope you are good!
So today I'm back with my second review for Michi Michi Rainbow Land!
Shop Michi Michi Rainbow Land
You can use the code "

anzujaamu10

" for a %10 discount~!
The lovely Teresa had new necklace designs up and she decided to send me them, I was so happy! ;//u//;
The shipping took about 12-15 days to Turkey, which can be considered fast when we think about my parcels from China.
Teresa had packed everything nicely together, so nothing was harmed on the way. I'm so glad, because the Turkish post offices never do a good job on these stuff.
This was how the items looked like when I took them out of their plastic bags.
Can you see the small letter? It was so kind of Teresa, I love it so much, hihi ; v ; <3
Alpaca Tights
You can use the code "
anzujaamu10
" for a %10 discount~!
This is how the Alpaca tights looked like when I wore them! The blush on their cheeks were made with a jewelry sticker which I found very cute. It was such a fun design, so I wanted this coordinate to be colorful, but I only focused on the yellow/black contrast. I think it worked well, because the black tights made the yellow "pop" and the cute face of the Alpaca were noticeable.
I am also very happy with the quality. The tights stretch well and they did not get ripped easily. According to your height, they might give a lighter shade of black color as it stretches, though. I am 164 cm and it works fine with me.
It comes in one-size but if you'd like a plus-size item, feel free to contact Teresa via Etsy, and I'm sure you can work it out one way or another.
Outfit Rundown
Wig: Ebay (But Spreepicky sells a very similar one!)
Coat: Sheinside
Tights: Michi Michi Rainbow Land
Shoes: A gift from my mom
The next item is the Luna Necklace!
Luna Necklace
You can use the code "
anzujaamu10
" for a %10 discount~!
Before starting talking about this necklace, I want to tell that Teresa also has an Artemis necklace up in her shop, you can check it from the link above.
This is such an amazing piece! I'm actually not a big fan of accessoires like necklaces and bracelets, but this is so adorable, I couldn't resist wearing it. It was inspired from the anime Sailor Moon and it is a handmade item.
I was very surprised when I heard that it was an handmade item, because it looks very professional and doesn't have any flaws. The colors also match well with the necklace chain.
I wore it with a matching Luna&Artemis tee! What do you think? Do they work well?
If you'd like to know where is this shirt from, please stay tuned, the review will be up soon!
Let's move onto the other necklace!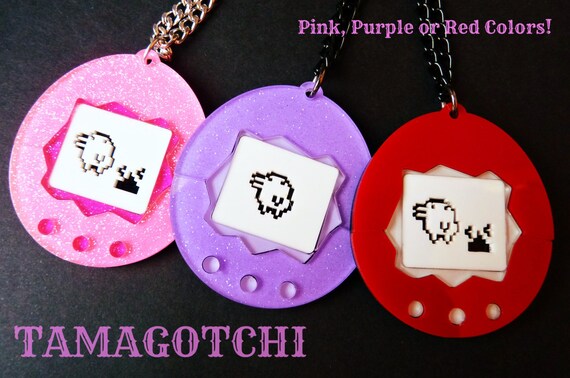 Glitter Tamagotchi Necklace
This is another original, handmade design of Teresa! I find them very cute, because they give a nostalgia feeling, since they were inspired from the Tamagotchi toys. The Tamagotchi in them looks like it had just pooped and I find it funny, haha~!
They come in 3 different colors; Pink, purple and red.
The color I got was the pink one and it is the most glittery one. So if you're fan of a more girly look, I would recommend the pink color. The color reminds me of Barbie.
I thought these bright colors would work well together, so I combined it with this green pig-tailed wig!
Last but not least, the Totoro purse!
However, if you'd like to have your coins in a different coin purse, this purse is ideal! Just make sure not to lose it, since it is really small!
Teresa's shop also has a matching pencilcase with this purse, which is bigger compared to this.
So make sure to check it out if you are a fan of "My Neighbor Totoro"!
In this photo it is more clear how big it is compared to my hand! ; u ;
I will make sure to use it as a coin purse, I really like small cute stuff like this.
Don't forget to use the code "
anzujaamu10
" for a %10 discount when you shop from Michi Michi Rainbow Land~!
I will try to post more photos with these items anyway!
See you until then, bye bye!