Wow, I sure did take my time to write this post!
I deeply apologize for posting this so late, but I wanted to make sure to get some nice photos ready for this review!
This time I will be reviewing a wig and a costume from CosplaySky.
CosplaySky
Make sure to check their site out! They have many character props, wigs and costumes for anime, game and movie characters. There are a lot of costumes to choose from and most of them are amazing!
As for the costume I chose...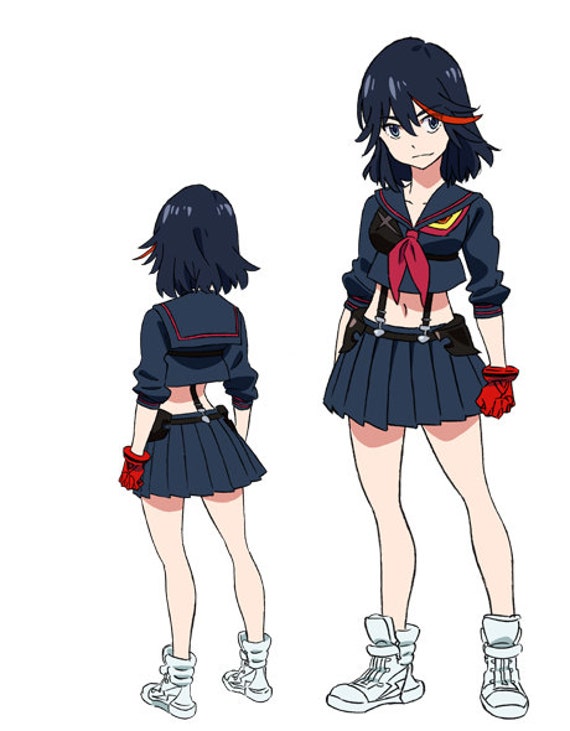 I chose Ryuko Matoi's costume from Kill la Kill.
I knew she wasn't going to suit me but I really like her so I wanted to give her a try.
(I might cosplay Nonon and Mako as well! I think they will be better.)
I also got Ryuko's wig from them and you can find their links below!
Ryuko Matoi Costume
First of all, I think the price for this costume is very reasonable, considering that it came in high quality. The costume includes; The top, skirt, suspenders which are separate from the costume itself and gloves. Ryuko only wears one glove but I received two gloves. ; u ;
I also gave my measurements so the costume was custom-made and it fit me perfectly, I am very happy about that!! I usually have trouble with my costumes and end up adjusting them. Fabric is listed as uniform cloth and I think it is thick and suitable for this kind of a costume. Nothing is shiny about this costume, which is the biggest plus to this costume. I really hate shiny materials in cosplay costumes, unless the costume is supposed to be shiny.
I wasn't notified when this costume was shipped out, so I'm not sure how long it took for it to get done, but I received the items in less than a month. You have no idea how awesome this is, I have had many bad experiences with other cosplay sites before because of this. ;___;
According to the site, the costume needs about 7-12 days to process and 3-7 days to arrive at your home. I'm really pleased with it~! ; u ;
Ryuko Matoi Wig
I received the wigs from this site as well. Unlike it is shown, it arrived unstyled, which I think is a good thing, so I could style them according to my face proportions. I had a bit trouble and ended up making the wig too short for the character, but please forgive me ; u ;
Apart from my mistake, nothing was wrong with the wig. I found it high quality as well, because literally no hair fell out as I styled it. There were a lot of hair too, so the wig cap never showed up.
If you are curious about the photoshoot, I will be posting my photos from now on.
Enjoy!
I WANT TO KISS EDNIZ ON THE FOREHEAD I LOVE THIS SHOT
Close up...
This one is a blooper actually!
But Edniz really liked it so I wanted to publish it too. ; u ;
What do you think about the photos? I think Edniz did a great job and capturing my photos even if I didn't suit this character. I will be posting more photos on my page in future.
I also can't wait to cosplay Nonon from Kill la Kill next!
I will keep you updated, so stay tuned!
Love you and bye bye!